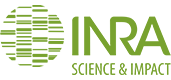 UE SMH Maïs
St Martin de Hinx (Centre INRA Nouvelle-Aquitaine-Bordeaux) - France
Missions and objectives
The SMH Maize Experimental Unit is part of the INRA Biology and Plant Breeding (BAP) Division. It focuses mainly on assessing material in the field according to phenological criteria and criteria for describing plant material. Its geographical location makes it possible to produce maize covering the entire range of maturity.
The varietal creation activity promotes original, classical or multipurpose genetic material and illustrates the pertinence of some methods and tools through the distribution of material to partner breeding establishments.
The experimental unit is also a Biological Resources Centre (CRB) for the maize lines and is dedicated to the multiplication, conservation, preservation, and distribution of INRA collections as well as the material which is currently undergoing research.
Scientific areas
– Analytical experiments:
Genomic and genetic programme on quantitative traits
Programme relating to drought resistance of maize
Programme on the quality of cell walls
– Preparation of trials within the framework of the GELI network and INRA
– Management and multiplication of genetic resources: working collection of maize lines
– Control of varietal purity for the National Interbranch Group for Seeds and Plants (GNIS)
– Varieties and Seeds Study and Control Panel (GEVES) activity: DHS and VATE trials. Multiplication of lines in deposits for the Technical Standing Committee on Selection (CTPS) (1st year)
– Phenotyping activities (medium & high throughput): on waterless panel and AMAIZING panel
The iPS2 Transcriptomic Platform (POPS) provides expertise to develop transcriptome analysis in plants using high throughput RNA sequencing.
This expertise offers the scientific community different approaches to better understand the functional networks of plants.
POPS is involved in research projects and carries out transcriptome analyzes in collaboration with partner laboratories. The service offered by the platform includes:
Advice to the partner laboratory on the most appropriate technology for its biological issue as well as the most effective experimental design.
From the supplied RNAs, the realization of all the steps of the analysis (qualitative and quantitative controls of RNAs, library construction, sequencing, raw data extraction).
Adapted bioinformatic and statistical analyzes.
Submission in CATdb and GEO databases (NCBI international database), essential for publication.